The Velvet Shank and Friends
€99.00
I found a big cluster of these Velvet Shank mushrooms (Flammulina Velutipes) in a dark corner of my garden - glistening in the rain. I was able to return to harvest more over a couple of weeks.
The Velvet Shank is much sought after in Japan where it is called the Enokitake. There it is commercially grown and looks very different to our wild Irish mushroom. Remove the cap skin and stem, google some recipes and you are good to go!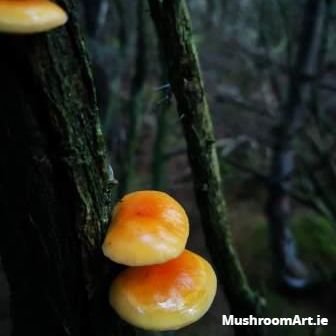 This artwork is made using wild mushrooms picked sustainably in my garden. The frame (purchased) is 33.5cm high x 33.5cm length x 2cm deep which can be hung. I used black card and a black frame.